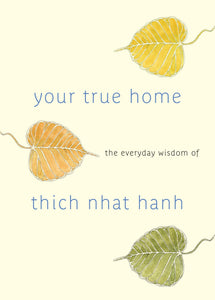 Bringing the energy of true presence into our lives really does change things for the better—and all it takes is a little training. This treasury of 365 gems of daily inspiration is for anyone who wants to train to meet every moment of life with 100 percent attention. 
Beloved spiritual teacher Thich Nhat Hanh draws from the his best-selling works to offer powerful and transformative words of wisdom that reflect the great themes of his teachings: how the practice of mindfulness brings joy and insight into every moment of our lives; how to transcend fear and other negative emotions; how to transform our relationships through love, presence, and deep listening; and how to practice peace for our world.  Inspiring, joyful, and deeply insightful, 
Your True Home
 shows how practicing mindfulness can improve every area of our lives—and how its benefits radiate beyond us to affect others and the whole, larger world.