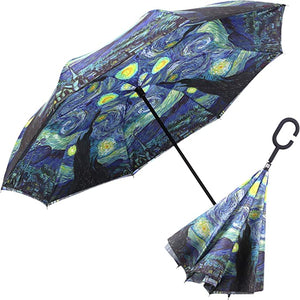 RainCaper Classic Reverse (inside-out) Umbrellas have you covered! Enjoy fashion and function – unique drip-free design captures rain so car and home stay dry!

Hands-free handle lets you hold phone, bag or drink – no more damp devices, soggy purses or wet car seats. Convenient self-standing design keeps umbrella at the ready.

Double canopies won't snag hair; design is visible both inside and on top of umbrella – you look radiant in any weather.

Unbreakable fiberglass ribs create a large 48" arc offering maximum coverage; premium quality umbrella is rainproof and windproof.

Weighs just 1.1 lbs. Reverse (inside-out) Stick Umbrella is 33 inches long.