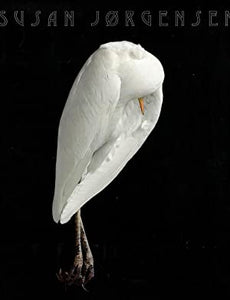 Susan Jorgensen relates her ongoing investigation of life forces and natural cycles. Interspersed with her nature journal entries, this book presents nine photograhic series that form the major portion of her creative effort in the 1990s. All of the images are gelatin silver prints embellished by oil painting, pencil, and ink. Found objects - bones, feathers, nests - punctuate the images and render new associations. The photograhic series include: Feathers/Plumage Coloratae, Icarus, Deer Blind, Amazing Grace, The Last Picture, Passages, Nest, Vital Signs, and Shrine Objects.
Jorgensen's Midwestern woodland upbringing, the environmental emphasis throughout her education, and her employment with the Environmental Protection Agency in its early years, all inform her passionate respect for the land and its denizens. Her images are windows of reverence for ecological balance and diversity, revealing the tenuous balance between culture and nature.
"Jorgensen's images reflect quiet moments and intimate explorations. She seeks to dissect and reveal the almost fierce connection she feels to nature and to the people she cherishes. Her photographs speak to every human being's search for connection to the natural world, to other creatures, to family members or friends, and to a spiritual essence." -Karen Sinsheimer, Curator of Photography at the Santa Barbara Museum of Art.