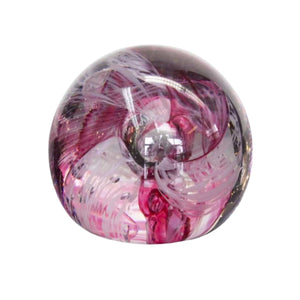 Add this handmade glass paperweight from April Wagner at epiphany studios to your office or decorations for the holiday season. This is also perfect as a gift.
This hot solid sculpted, handmade glass paperweight by April Wagner uses two vibrant colors in a round loop to symbolize the powerful circle of life. The swirling colors capture potent emotions, thought and feelings. It is stamped with a heart on the bottom and signed and dated by the artist. These paperweights make the perfect addition to any office or home, reminding the owner of their magic powers.  Each paperweight comes with an enclosure card explaining their powerful symbolism. The Ruby color represents leadership, passion, happiness, energy, elegance, and success.
Size approximately 3"D x 3"H
April Wagner is an artist with an interest in form, color, and line. She has pieces in prominent collections around the world, and a 4,000 sq. ft world class glassblowing studio.