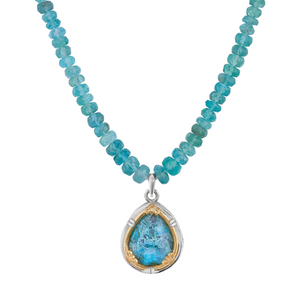 Anatoli Jewelry 
Cathleen and Kostas Anatoli first met on a Greek Island in 1984; Since then, they have been inseparable. Inspired by history and architecture, this husband and wife team design stunning and classically-inspired jewelry out of their studio in Woodstock, New York. Anatoli Jewelry sources all of their materials ethically and insist on their finest materials and quality at every level or creation. This family run business has also welcomed daughters, Katia and Layla, as designers and artists themselves.
Chrysocolla Teardrop with Apatite Necklace Details:
Sterling Silver & 18K Gold Vermeil
Hand wrought in sterling silver and 18k vermeil, the Minoan Collection is inspired by the colors ubiquitous on the beautiful Greek Island of Crete.  It is an ode to the vibrant landscapes of Greece, and evokes scarlet sunsets, sparkling beaches, rocky cliffs, and turquoise seas. It is also an ode to the ancient Minoans, who also called Crete home, and their beautifully illustrated frescoes.