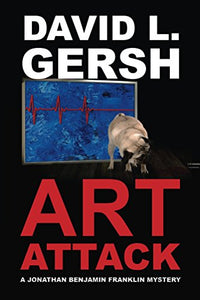 By David Gersh.
The Nauton Museum of Modern and Contemporary Art is running out of money. It is beset by forgery and awash in rebellious artists. It is being torn apart by a band of hostile curators with a director who's trying to turn things around if he could figure out which way to turn. Then there's the murder.
Harvard Law Professor Jonathan Benjamin Franklin is at it again. He's been dealt a pretty good hand, but someone has raised the stakes when he wasn't looking. He can't fold; he will go to jail. And be disbarred. Assuming he lives that long. This art world is downright dangerous.
Elegant society, fine art and ruthless business dealings create another art world mystery for Jonathan and his sidekick, Rufus, to sniff out.