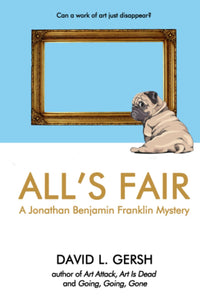 By David Gersh.
Why would Pamela Knorrington claim a painting was stolen from a museum that had never heard of it? Is she crazy? Or can a thief make works of art disappear?
In desperation Pamela calls her friend, Mimi Aaron, the billionaire, Simon Aaron's ex-wife. Her tale arouses Mimi's curiosity. The weather in New York has been lousy and Mimi is bored silly. Los Angeles looks pretty tempting.
She recruits a reluctant Jonathan Benjamin Franklin to assist her. Jonathan's wife, Nicole DeSant, is seven months pregnant and Jonathan isn't about to leave. But Mimi Aaron can be very persuasive indeed. Besides, Nicole has Rufus, her beloved pug, to watch over her. And while Jonathan is a dear, he does tend to hover a bit too much.
In the wilds of Bel Air, working night and day, Mimi and Jonathan seek to unravel the mystery. And they discover … nothing. Then Pamela Knorrington disappears.
Jonathan is once again in over his head. Maybe he just should stop digging. Particularly since a Columbian drug lord would like to bury him.