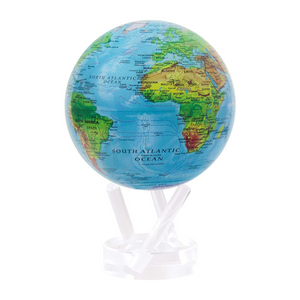 MOVA globes rotate calmly and quietly on a tripod pedestal.  Solar cells gather power from the indoor ambient light, and magnets work with the earth's magnetic field to create soothing rotations. No batteries nor cords needed!  Made of high quality acrylic.  
This relief map features bright blue oceans combined with shading and color-coding to depict the earth's unique topographical features. 
Comes with Acrylic Base.