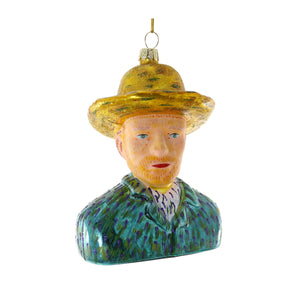 Add this ornament of Vincent Van Gogh to your holiday decorations, or give as a gift to friends or loved ones.
These glass ornaments are produced by Cody Foster, a small, family-run business in the Sand Hills region of Valentine, Nebraska. Their products are created with the vision of becoming joyful additions to the home.
Vincent Willem van Gogh  (30 March 1853 – 29 July 1890) was a Dutch Post-Impressionist artist who emerged as one of the most famous figures in the history of Western art after his death. His innovations contributed to the foundations of modern art.  

Size: 5x3.5x2.75"