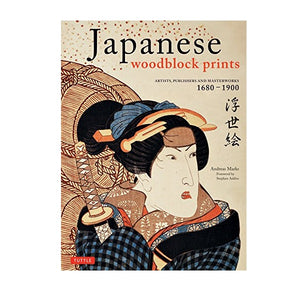 Japanese woodblock prints, or 
ukiyo-e
, are the most recognizable Japanese art form.  Covering the period from the beginning of the Japanese woodblock print in the 1680s until the year 1900, 
Japanese Woodblock Prints
 provides a detailed survey of all the famous 
ukiyo-e
 artists, along with over 500 full-color prints.
Unlike previous examinations of this art form, 
Japanese Woodblock Prints
 includes detailed histories of the publishers of woodblock prints—who were often the driving force determining which prints, and therefore which artists, would make it into mass circulation for a chance at critical and popular success. Invaluable as a guide for 
ukiyo-e
 enthusiasts looking for detailed information about their favorite Japanese woodblock print artists and prints, it is also an ideal introduction for newcomers to the world of the woodblock print. This lavishly illustrated book will be a valued addition to the libraries of scholars, as well as general art enthusiasts.