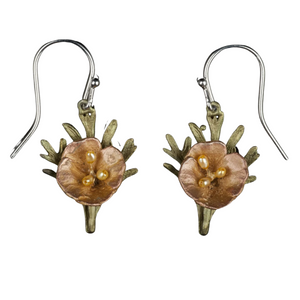 This beautiful pendant by Michael Michaud is cast in bronze in a mold made directly from a California Poppy plant in order to perfectly capture the form and texture.
Michael Michaud Jewelry is a world-renowned collection of botanical jewelry. The unique pieces capture the beauty and exquisite detail of nature using soft patinas on bronze accented with pearls, beads and semi-precious stones. Each piece is hand crafted in New York and cast from the actual plant, using a technique similar to lost-wax casting. 
The California Poppy is a perennial and annual plant, native to the United States. California Poppy leaves were used medicinally by Native Americans and the pollen was used cosmetically. Its golden blooms are a fitting symbol for the golden state.

Hand painted Green Bronze for the leaves and 24k Gold Plated Petals.