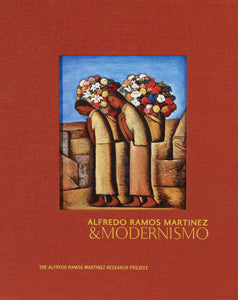 Mexican painter and muralist Alfredo Ramos Martinez (1871–1946), a less flamboyant contemporary of Diego Rivera and José Clemente Orozco, is finally beginning to be acknowledged for his special contribution to modern Mexican art. 
Alfredo Ramos Martinez & Modernismo
 is the first complete monograph on his work, and features rarely seen vintage photographs along with extensive biographical information. This beautifully illustrated and carefully researched book chronicles Ramos Martinez's decade in Paris as well as his years as the Director of the National School of Fine Arts in Mexico City. Additionally, the book reproduces perhaps the most authoritative collection of the exquisitely painted, iconic works Ramos Martinez produced during his final years in California. Executed in luscious primary colors and featuring powerful visions of the artist's reimagined homeland, these late paintings are as provocative as they are beautiful.