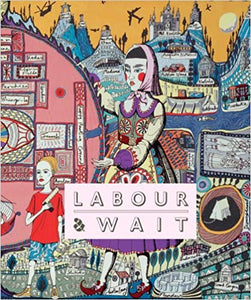 Labour and Wait featured 16 international artists and artist-collaboratives who bring 21st-century urgency to age-old virtues of hard work and craftsmanship. The exhibition title is adapted from Henry Wadsworth Longfellow's poem "A Psalm of Life" (1838), which extols living life to its fullest and alludes to the rewards of physical labor.
Comprising over 38 sculptures, videos, and drawings, Labour and Wait highlighted contemporary culture's preoccupation with authenticity and the handcrafted as well as issues related to manufacturing and labor. The presentation also addressed the resurgence of a Do-It-Yourself aesthetic in art of the past two decades, highlighting the contradictions and connections between the handmade and the heightened technological advancements of our current era. Emphasized were works that illustrate current-day representations of the analog.  Are such works viable in today's world? Are such tendencies an action of or a reaction to technological progress?  These questions, among others, are explored throughout the exhibition, catalogue, and related public programs.
Artists featured in the exhibition include Tonico Lemos Auad (London/São Paulo), Andrea Bowers (Los Angeles), Colin Darke (Derry, Northern Ireland), Wim Delvoye (Ghent), Daniel Dewar and Grégory Gicquel (France), Peter Fischli and David Weiss (Fischli lives and works in Zurich; Weiss died in 2012), Theaster Gates (Chicago), Tim Hawkinson (Los Angeles), Josiah McElheny (New York), Grayson Perry (London), Allison Smith (San Francisco), Ricky Swallow (Los Angeles), Mika Rottenberg, Mika Rottenberg and Jon Kessler (New York), David Thorpe (British artist living in Berlin), and Jane Wilbraham (London).