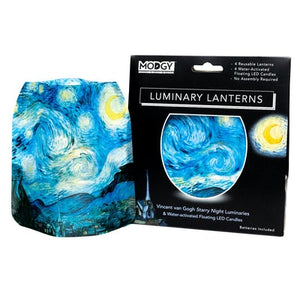 Modgy Luminary Lanterns set the mood in any space with the addition of water and water-activated, floating LED candles. These durable, plastic luminaries feature modern, graphic designs and are suitable for indoor and outdoor use. Modgy luminaries compliment an elegant wedding, trendy dinner party or relaxed patio gathering, and are also perfect for every day living. Modgy Luminary Lanterns will not break or chip, and eliminate concerns about fire hazards due to the use of flameless, floating candles. 
The Starry Night
Vincent van Gogh (Dutch, 1853-1890)
1889
Oil on canvas
"The sight of the stars always makes me dream," Vincent van Gogh wrote to his brother Theo. The Starry Night, completed a year before his death, seems to presage modern painting in this moody and expressionistic work.
Based on the view from his bedroom window at the asylum in Saint-Rémy, Vincent painted the scene over twenty times in various light and weather. Although not permitted to paint in his room, the hospital generously gave him a studio on the ground floor where he put paint to canvas after his observations at night. The village in the painting was drawn from memory, since he could not see it from his bedroom, and a Flemish church imported from his native country was added. But his most famous vision of the swirling, starlit night sky dominates the landscape. "This morning I saw the countryside from my window a long time before sunrise with nothing but the morning star."