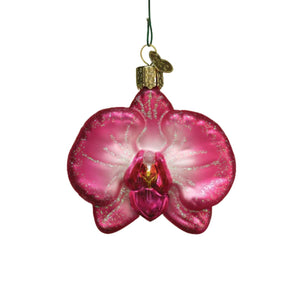 Orchids are very popular in Santa Barbara county and are shared far and wide. Orchids are highly coveted ornamental, exotic flowering plants. The orchid symbolized love, luxury, beauty and strength.  This orchid ornament is a perfect floral addition to your holiday decorations, or give as a gift to friends or loved ones. 
Dimensions : 3" X 3" X 1.25" (HxLxW)
Old World Christmas was founded by Tim and Beth Merck in 1979.  Each figurative glass ornament produced by Old World Christmas is hand crafted in age-old tradition using the same techniques that originated in the 1800's.

Each glass ornament is mouth-blown into finely carved molds. A solution of hot liquid silver is added for exceptional color and vibrance. Ornaments are then hand-painted and hand-glittered for a fine finish.