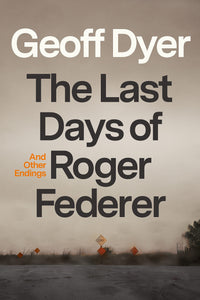 When artists and athletes age, what happens to their work? Does it ripen or rot? Achieve a new serenity or succumb to an escalating torment? As our bodies decay, how do we keep on? In this beguiling meditation, Geoff Dyer sets his own encounter with late middle age against the last days and last works of writers, painters, footballers, musicians, and tennis stars who've mattered to him throughout his life. With a playful charm and penetrating intelligence, he recounts Friedrich Nietzsche's breakdown in Turin, Bob Dylan's reinventions of old songs, J. M. W. Turner's paintings of abstracted light, John Coltrane's cosmic melodies, Bjorn Borg's defeats, and Beethoven's final quartets―and considers the intensifications and modifications of experience that come when an ending is within sight. Throughout, he stresses the accomplishments of uncouth geniuses who defied convention, and went on doing so even when their beautiful youths were over.

Ranging from Burning Man and the Doors to the nineteenth-century Alps and back, Dyer's book on last things is also a book about how to go on living with art and beauty―and on the entrancing effect and sudden illumination that an Art Pepper solo or Annie Dillard reflection can engender in even the most jaded and ironic sensibilities. Praised by Steve Martin for his "hilarious tics" and by Tom Bissell as "perhaps the most bafflingly great prose writer at work in the English language today," Dyer has now blended criticism, memoir, and humorous banter of the most serious kind into something entirely new. 
The Last Days of Roger Federer

 
is a summation of Dyer's passions, and the perfect introduction to his sly and joyous work.