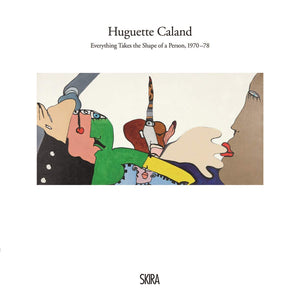 Huguette Caland: Everything Takes the Shape of a Person presents the first concentrated look at the erotic, humorous early works of the Beirut-born artist (born 1931). This volume focuses on the artist's work between 1970 and 1979, particularly the paintings and works on paper that reflect Caland's preoccupations with the erotic female body.
Caland's body of work, which spans art, design and fashion, has patiently awaited the kind of critical attention it finally receives in this publication. Kaelen Wilson-Goldie contributes an essay discussing Caland's artistic development in the formative years just before her move from Beirut to Paris (a tradition-bucking move for the daughter of the first post-independence president of Lebanon). Negar Azimi addresses the implications of the artist's relation to female desire, expressed in Caland's writhing, intertwined bodies and abstract fields that flirt with anatomical suggestion. A conversation between the artist and Lebanese author Hanan al-Shaykh, originally produced for Télé Liban in 1974 and appearing here for the first time in English, is also included to give greater insight into Caland's conceptions of herself as an artist at this time.
These critical assessments of Caland and her work are the first in-depth offerings to deal with the artist's legacy, and are presented here as a starting point for further scholarship.