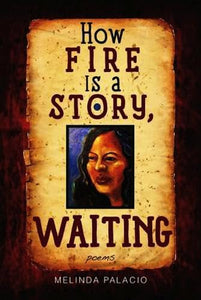 2013 International Latino Book Awards Winner Best Poetry Book in English.  2013 Binghamton University Milt Kessler Poetry Book Award Finalist.  2013 Paterson Poetry Prize Finalist, Melinda Palacio's newest poetry collection creates images that are at once heartbreaking and humorous. She tackles elemental subjects of family and childhood with the same depth and grace as that of myth making and death. As the only child of a mother who died too young, she infuses her words with longing and life, and celebrates the women who came before her. Each poem offers up the truth in a fearless and unsentimental voice. Palacio's lyrical language punches an unexpected pause to subjects such as domestic violence and her childhood in South Central Los Angeles. 
How Fire Is A Story, Waiting
 is divided into four sections: Fire, Air, Water, and Earth. In each section Palacio tempers heartbreak, violence, and disappointment with the antidote of humor, beauty, and an appreciation for life.