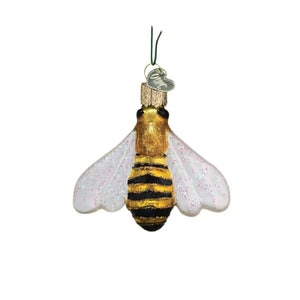 Bees hold the world together. Their cross-pollination keeps crops and wild plants thriving. This Honey Bee ornament is a wonderful buzz-worthy addition to your Christmas tree or decorations, or give as a gift to friends or loved ones.
Size: 2.75 X 2.5 X 0.75 (HxLxW)
Old World Christmas was founded by Tim and Beth Merck in 1979.  Each figurative glass ornament produced by Old World Christmas is hand crafted in age-old tradition using the same techniques that originated in the 1800's.
Each glass ornament is mouth-blown into finely carved molds. A solution of hot liquid silver is added for exceptional color and vibrance. Ornaments are then hand-painted and hand-glittered for a fine finish.