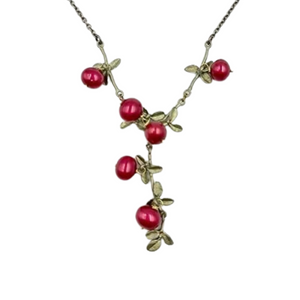 Michael Michaud's Cranberry Pendant is cast in hand patinated bronze and accented with cranberry freshwater pearls. 
Michael Michaud Jewelry is a world-renowned collection of botanical jewelry. The unique pieces capture the beauty and exquisite detail of nature using soft patinas on bronze accented with pearls, beads and semi-precious stones. Each piece is hand crafted in New York and cast from the actual plant, using a technique similar to lost-wax casting. 
Michael Michaud's Cranberry Necklace is a brilliant and contemporary way to show off your love of nature as well as your daring sense of style. Rich, vibrant freshwater pearl "berries" add playful charm to the elegant hand-patinaed cast bronze necklace, and pay tribute to the gorgeous hues of the organic world. 
 16" adjustable.  Drop 1.75".