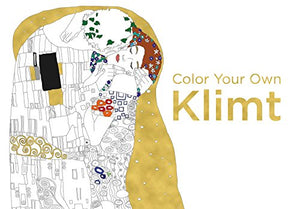 One of the most popular painters of the modern period, Austrian Gustav Klimt created dozens of murals, portraits, and landscapes. Two of his most famous paintings, the iconic The Kiss and The Woman in Gold (also known as Adele Bloch-Bauer I), demonstrate his breathtaking skill with gold leaf.
Now, fans can color these and other favorite Klimt artworks with Color Your Own Klimt. Produced in conjunction with The Belvedere museum in Vienna, Austria, which houses the world's largest collection of oil paintings by the artist, Color Your Own Klimt includes Adam and Eve, Lady with Fan, Judith, and many other works, reproduced in exquisitely detailed black-and-white line art.
Because the pages are printed on a heavy paper stock, coloring enthusiasts can use any ordinary medium—paints, color pencils, crayons, markers—to create their own works of art, and a handy index of the original paintings helps them color true to life.