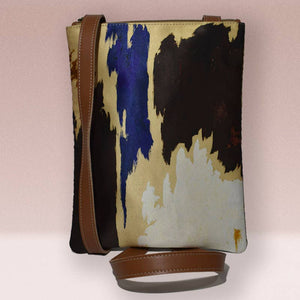 Clyfford Still prominent representative of American expressionism. The Hilda Model is a
 useful and comfortable shoulder bag; Zip closure and single inside pocket. Materials; 
 silk and leather finishes. To carry it crossbody and over the shoulder. 23x28 cm - Handle
 length 124cm 95% silk and 5% leather. The silk is treated with a heat process at 195º
 which means that it does not need additional care. For any type of stain, clean with a
 damp cloth and allow to dry. Skin: it is advisable to nourish all kinds of skin once a
 year or when a stain occurs. It can be done with moisturizing cream, extending and
 removing the cream with a dry cloth.