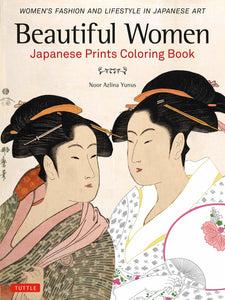 Beautiful Women Japanese Prints Coloring Book
 celebrates 200 years of women in Japanese art--from the 
ukiyo-e
 woodblock prints of eighteenth and nineteenth-century traditional Japan to modern 
shin hanga
 prints of the early twentieth-century jazz era. This lavish fine art coloring book features 22 images of women from all walks of life--from court ladies to housewives--at work, at play and in contemplation.

With a wonderful section of prints of varying artistic complexity, this book is the perfect way to enjoy a slice of Japanese culture while having fun creating your own art. When your masterpiece is complete, simple tear it out at the perforation to frame and display.

A copy of the richly colored original print sits opposite your "canvas" to use as a reference, if desired, and each print is accompanied by a fascinating introduction to the context or the artist behind the work.