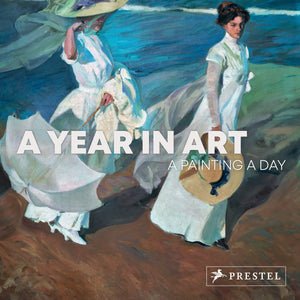 As functional as it is beautiful, this substantial book presents some of the world's greatest art in an elegant package that will look good at home or in the office.
Every day offers a different, exquisitely reproduced artwork from a variety of eras, genres, and media; quotations to ponder, surprise, and delight; and ample space to record birthdays, anniversaries, and other important dates as well as personal notes and reflections.
There's art for every taste and from every period: prehistory and ancient Egypt; Medieval and Renaissance; Impressionist, Abstract, and Modern. Featured artists include, Leonardo da Vinci, Botticelli, Raphael, Michelangelo, Albrecht Dürer, Caravaggio, Titian, Hiroshige, El Greco, Vermeer, Turner, Monet, van Gogh, Cassatt, Kandinsky, Klee, Picasso, and others.
This book's global and historical collection of images makes it the perfect gift for lovers of art and will offer inspiration every day of the year.