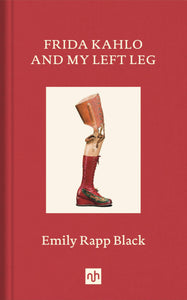 Join us via Zoom on October 14th at 5:30 for a reading and conversation with Emily Rapp Black and Alex Espinoza. For tickets to the event please click here.
Emily is an award-winning author of Poster Child: A Memoir and The Still Point of the Turning World, a New York Times bestseller. She explores art and disability in her most recent book Frida Kahlo and My Left Leg. With elegance, tenderness, and zero sentimentality, she deconstructs the mythologies of words like bravery and resilience and recognizes in Kahlo a twin at the art of creating to silence pain. Joining her is colleague Alex Espinoza, Tomás Rivera Endowed Chair of Creative Writing at UC Riverside and author of novels Still Water Saints and The Five Acts of Diego Léon, and the recent nonfiction book Cruising: An Intimate History of a Radical Pastime. At the first sight of Frida Kahlo's painting The Two Fridas, Emily Rapp Black felt a connection with the artist. An amputee from childhood, Rapp Black grew up with a succession of prosthetic limbs and learned that she had to hide her disability from the world. 

Kahlo sustained lifelong injuries after a horrific bus crash, and her right leg was eventually amputated. In Kahlo's art, Rapp Black recognized her own life, from the numerous operations to the compulsion to create to silence pain. Here she tells her story of losing her infant son to Tay-Sachs, giving birth to a daughter, and learning to accept her body. She writes of how Frida Kahlo inspired her to find a way forward when all seemed lost.