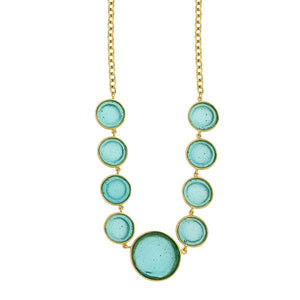 The Bubble Collection is cast in bronze layered in 24K Gold with cast glass elements.
Based in New York, Michael Vincent Michaud's work is notably unique in his process of cast glass, a technique not typically utilized in jewelry. Michael is able to capture bold colors and textures that make each jewelry design pop and glow with the glimmer of forever changing lights that hit the glass elements. 
As children play and create soap bubbles, they try to make the largest or most bubbles possible, while we watch, mesmerized by the spheres that drift through the air. The most magical part of this experience is, as the bubbles float into the sky, they take on the different colors of our surroundings. Michael Vincent captures this playfulness.
1-2" charms, 16" adjustable gold plated chain.