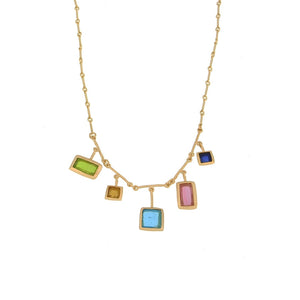 The Mosaic collection was inspired by the way light strikes beautiful, glass mosaic windows and creates a kaleidoscope of color. 
The cascading, delicate glass pieces all glow in harmony  when hit with radiant sunlight.
Michael Vincent Michaud's work is notably unique in his process of cast glass, a technique not typically utilized in jewelry. Michael is able to capture bold colors and textures that make each jewelry design pop and glow with the glimmer of forever changing lights that hit the glass elements. Michael Vincent Michaud is based out New York and each piece is handcrafted. 
The Mosaic Collection is cast in bronze layered in 24K Gold with cast glass elements.