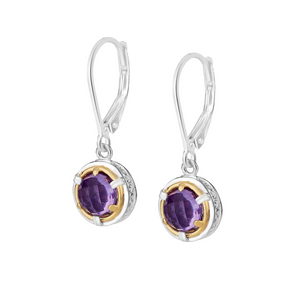 Anatoli Jewelry 
Cathleen and Kostas Anatoli first met on a Greek Island in 1984; Since then, they have been inseparable. Inspired by history and architecture, this husband and wife team design stunning and classically-inspired jewelry out of their studio in Woodstock, New York. Anatoli Jewelry sources all of their materials ethically and insist on their finest materials and quality at every level or creation. This family run business has also welcomed daughters, Katia and Layla, as designers and artists themselves.
Amethyst Round Earrings Details:
Sterling Silver
Gold Vermeil 
Sterling sliver wiring is inspired by ancient minoan art.