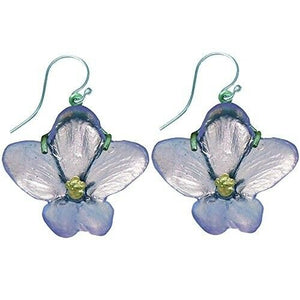 These Michael Michaud African Violet Earrings are crafted from hand cast glass petals and patinaed bronze. 
Michael Michaud Jewelry is a world-renowned collection of botanical jewelry. The unique pieces capture the beauty and exquisite detail of nature using soft patinas on bronze accented with pearls, beads and semi-precious stones. Each piece is hand crafted in New York and cast from the actual plant, using a technique similar to lost-wax casting. 
 These herbaceous perennial flowering plants are native to Tanzania and south-eastern Kenya in eastern tropical Africa. African violets have long been associated with mothers and motherhood and given as a traditional gift to mothers in many cultures around the world. 
Approximately 1 inch in diameter. The posts are 925 Sterling silver.