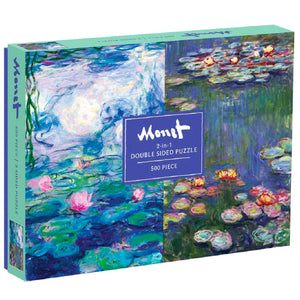 This stunning 500-piece jigsaw puzzle is just the right level of challenge for all ages—from children to adults.

Features double-sided pieces, so it is two puzzles in one. One side is matte and the other is glossy for easy sorting between two iconic Waterlilies paintings.

Galison uses continuous quality control checks during production to ensure there is virtually no puzzle dust. Each piece is printed with no glare, non-toxic inks.

This 500 puzzle pieces are thick and sturdy, so they are easy to work with and fit together perfectly. The completed puzzle measures 24" x 18" and the package measures 11.5" x 8.5" x 1.5".

Adheres to CPSIA, ASTM, and CE Safety Regulations.