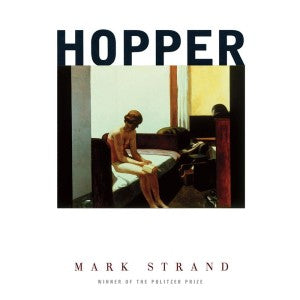 Now in rich color, thirty of American painter Edward Hopper's masterpieces with critiques from acclaimed poet Mark Strand.  Strand deftly illuminates the work of the frequently misunderstood American painter, whose enigmatic paintings of gas stations, storefronts, cafeterias, and hotel rooms number among the most powerful of our time.
In brief but wonderfully compelling comments accompanying each painting, the elegant expressiveness of Strand's language is put to the service of Hopper's visual world.  The result is a singularly illuminating presentation of the work of one of America's best known artists.  Strand shows us how the formal elements of the paintings - geometric shapes pointing beyond the canvas, light from unseen sources - locate the viewer, as he says, "in a virtual space where the influence and availability of feeling predominate."
An unforgettable combination of prose and painting in their highest forms, this book is a must for poetry and art lovers alike.