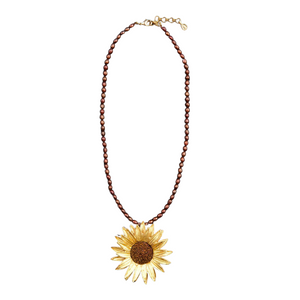 The flowers cast in sterling silver with 24K gold vermeil and druzy stones in the center on a white seed pearls necklace.
Michael Michaud Jewelry is a world-renowned collection of botanical jewelry. The unique pieces capture the beauty and exquisite detail of nature using soft patinas on bronze accented with pearls, beads and semi-precious stones. Each piece is hand crafted in New York and cast from the actual plant, using a technique similar to lost-wax casting. 
The sunflower is an annual plant native to the Americas. It possesses a large flowering head, and its name is derived from the flower's shape and image, which is often used to capture the sun. In the 1880s, Dutch painter Vincent van Gogh started a series of sunflower paintings which have now become famous icons and are one of the most instantly recognizable painting of our time.
Chain: 16" - 17" L (adjustable); Pendant: 1" L x 1" W