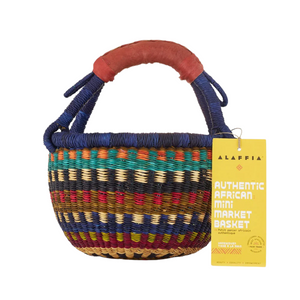 Alaffia's mini market baskets are used traditionally in West Africa to carry produce to and from markets or farms. Created in Bolgatanga, Ghana, in 12 villages with more than 5,000 women basket weavers, the Alaffia weavers work independently in a creative process. Members of Alaffia basket cooperatives receive fair wages and health care for their families in return for indigenous skills and knowledge. The weavers craft the baskets in their own homes, and Alaffia collects the baskets once they are completed. This gives the weaver flexibility to work at a pace that is convenient for her. Because Alaffia collects the baskets at the weavers' homes, the women do not have to sell their baskets at the open market. This exchange empowers West African communities and preserves cultural heritage.
Each basket is completely unique and the leather tag inside is personally signed by weaver. Made with wild-harvested Savannah grass.
Please note that given the unique handcrafted nature of each basket, there are no two alike. Colors and patterns will vary.
Care and Use: To reshape your basket, spray lightly with water, shape and air dry thoroughly. Avoid direct light for best color retention.
Dimensions: height of 9 inches, width of 7 inches, depth of 5 inches