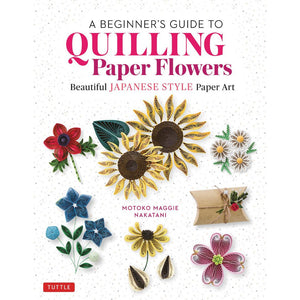 Create exquisite, long-lasting quilled paper flowers with this step-by-step detailed guide!
With the help of Japanese quilling expert Motoko Maggie Nakatani, you can create breathtaking quilled flowers with just a few inexpensive tools and paper quilling strips. Her simple 
roll-shape-and-paste
 method is perfect for beginners--allowing you to quickly create dozens of different flowers.
A Beginner's Guide to Quilling Paper Flowers
 has all the information you need to embark on this fascinating hobby using easy-to-follow, step-by-step photographic instructions.
Make 32 different varieties of quilled flowers, including:
Roses--with frilly petals and ornate leaves for sweet and romantic gift decorations!
Gerbera--with a graduated 3-level "wedding cake" effect that makes it the highlight of any display!
Japanese Wisteria--whose contrasting colors and cascading blossoms make a memorable impression!
Black-Eyed Susans--with clever arrangement of the petals creating a unique 3D effect!
Dogwood Blossoms--whose intricate harp-shaped petals really showcase your skill as a quillist!
And dozens of others!
This complete how-to guide has templates and detailed step-by-step instructions as well as information on how to use and display your beautiful paper flowers--as gift toppers, framed displays, handmade cards, photo frames and in shadow box displays.