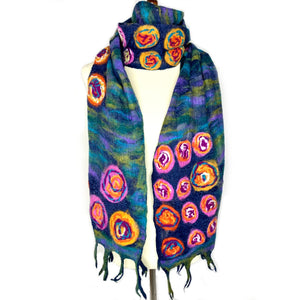 Felted with 100% Merino wool. ​Each of these hand-felted sari scarves stands alone as a one-of-a-kind work of art. Inspired by Monet's Water Lilies painting, this Merino wool & silk chiffon scarf is full of color, art, and texture.
Finish:  Felted with 100% Merino wool
This scarf is created using a nuno felting process.  A very small amount of merino wool is carefully placed on recycled silk, chiffon, or cotton. The materials are heated, soaped, and scrubbed causing the wool fibers to migrate through the weave of the cloth and bond together creating garments that are lightweight and drape beautifully on the body. 
Pomegranate Moon is a fair trade, socially responsible company launched in 2009 dedicated to providing quality handmade fashion accessories for their customers while increasing benefits for artisans in Nepal. They encourage the preservation of traditional craft processes while promoting environmentally sustainable practices.