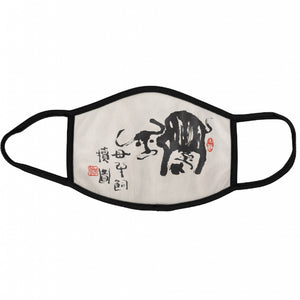 Since 2021 is the year of the ox in the Chinese zodiak we've re-created Jiao Yi's  finger painting from 1979 of mother and child ox onto an artistic mask. Jiao Yi is better known as a calligrapher and seal carver. The artwork on this mask is part of an album set of 14 paintings following a tradition, according to him, dating back to the 8th century. He captures each ox with simple, expressive postures with a touch of whimsy. Each image is also inscribed with Jiao's comments in various calligraphic styles and imprinted seals carved by the artist himself.

Three layer mask fabric content: Front layer: 100% Polyester, Middle Layer-100% Cotton, Back Layer- 100% Polyester

Mask sales are final and cannot be returned.