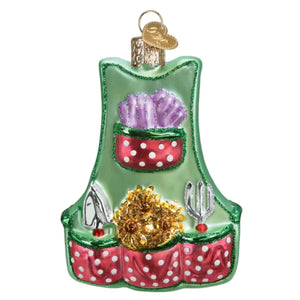 Gardening is good for the soul. There is something about working in the dirt with your hands that is therapeutic for many people. This glass Gardening Apron Ornament is the perfect gift for your friend who loves to garden. Gardening is itself and art form. 
Size : 4 X 3 X 1 (HxLxW)
Old World Christmas was founded by Tim and Beth Merck in 1979.  Each figurative glass ornament produced by Old World Christmas is hand crafted in age-old tradition using the same techniques that originated in the 1800's.
Each glass ornament is mouth-blown into finely carved molds. A solution of hot liquid silver is added for exceptional color and vibrance. Ornaments are then hand-painted and hand-glittered for a fine finish.